I Juli ønsker jeg jeg mig skønne bløde farver, mikset med sort/hvide kontraster.
Jeg elsker de grafiske bogstaver fra Designletters og kan ikke rigtig få nok af dem. Samtidig mangler jeg nogle små opbevaringsbøtter til mit køkken og der ville en fin kop med 'K' for Køkken med sort trælåg passe rigtig godt ind.
Jeg er stadig meget glad for gul og føler ikke rigtig at dillen for mig, er på vej retur endnu – så derfor er der også denne måned skønne gule accessories at finde blandt mine wants. Jeg håber i kan holde det ud lidt endnu ;P
Den runde grafiske pude fra Wendt design er jeg helt tosset med. Tror dog at jeg vil lave den til et af mine efterårs hækleprojekter. Så stay tuned for at se resultatet når vi når så langt :)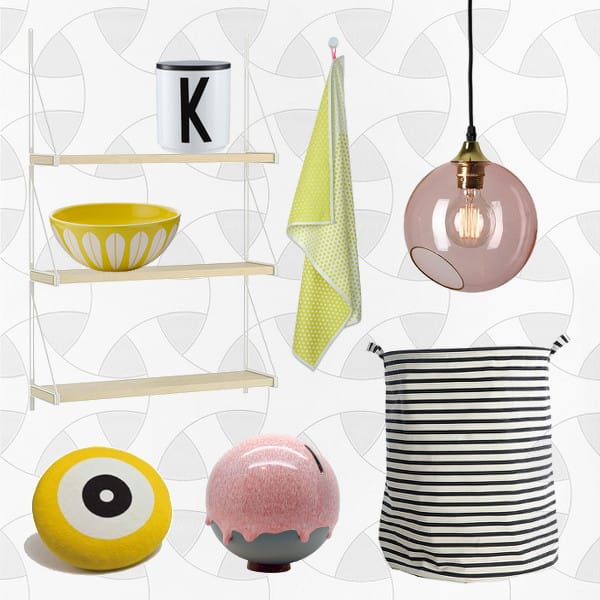 Flow tapet fra byLassen, fås i to farver, 549 kr. • Ekby reol fra Ikea, vægbeslag 50 kr. stk. • Designletters kop med låg, fås med alle alfabetets bogstaver og låg i flere farver, kop 119 kr. låg 59 kr. • Nye Dot viskestykker fra HAY, fås i flere forskellige farver, sæt af 2 stk., 129 kr. • Ballroom pendeli rosa fra Design by Us, få i fire farver og to størrelser, 1.599 kr. • Dot pude fra Wendt Design, fås i flere farver og tre størrelser, ø 50 cm, 1.125 kr. • ORB fra Arhøj Design er håndlavet i procelæn med  en farvet tyk glasering i mange smukke farver, 499 kr. • Vaskeposei grafiske sort/hvide striber fra House Doctor, 99 kr.