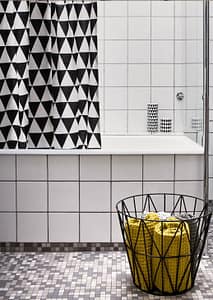 Drømmer du også om at få piftet dit badeværelse op, enten med den helt store renovering eller med lidt nye badeværelsesartikler? Det gør jeg, og det står øverst på min to do liste over de ting, jeg skal have lavet ved boligen i det nye år. Det bliver ikke den helt store renovation med nye fliser og inventar, men væggene skal opfriskes og nye knager, badeforhæng, håndklæder og andre smukke indput, skal give rummet et helt nyt look. Jeg er vild med den nordiske rå stil og det skal være rummets rødetråd, med enkelte undertoner af tidens grafiske linjer.
Som sagt er det på to do listen, så i mellemtiden vil jeg søge inspiration og drømme lidt om de mange lækre ting man kan få til badeværelset. Her er et lille udpluk…


Fra øverste billede:
Badeforhæng fra by nord, Pedalspand, toiletbørste og sæbedispenser fra Vipp, bademåtte fra by nord, trådkurv fra ferm LIVING Tip! Brug den til håndklæder eller toiletruller, Koksgrå håndklæder fra Magasin, Tine K home duft lys, Driftwood knager fra designdelicatessen.dk fås i mange forskellige farver, vasketøjskurv fra House Doctor og spa produkter fra by nord.