Jeg har fået lavet disse to fine billeder af mine to guldklumper, som en fed personlig gave til min mand. Fotografierne er trykt direkte på skumpap, og behøver derfor ikke rammer. De skal bare have et lille klister ophæng bag på (lidt ligesom dem man bruger til tallerkner) så kan de komme op og hænge. Man kan få dem lavet i mange forskellige størrelser. Mine er lavet i målene 20×30 cm, og jeg vil bruge dem som en del af en gallerivæg.
Begge billeder er taget med min mobiltelefon og jeg har delvist redigeret dem i en foto app på telefonen og i billedbehandlingsprogrammet Iphoto på computeren. Jeg har gået efter at finde to billeder der havde nogenlunde samme udtryk, så der var en vis sammenhæng. Begge billeder er taget på stranden, dog på hver sin strand og med flere års mellemrum. Der skal kun lidt redigering til, og så elsker jeg det der lidt udtonede og gyldne 70'er fotolook.
Så er du ikke lige til de traditionelle skolefotos i en ramme, men stadig gerne vil have ungerne op på væggen, så kunne dette være et fedt alternativ :)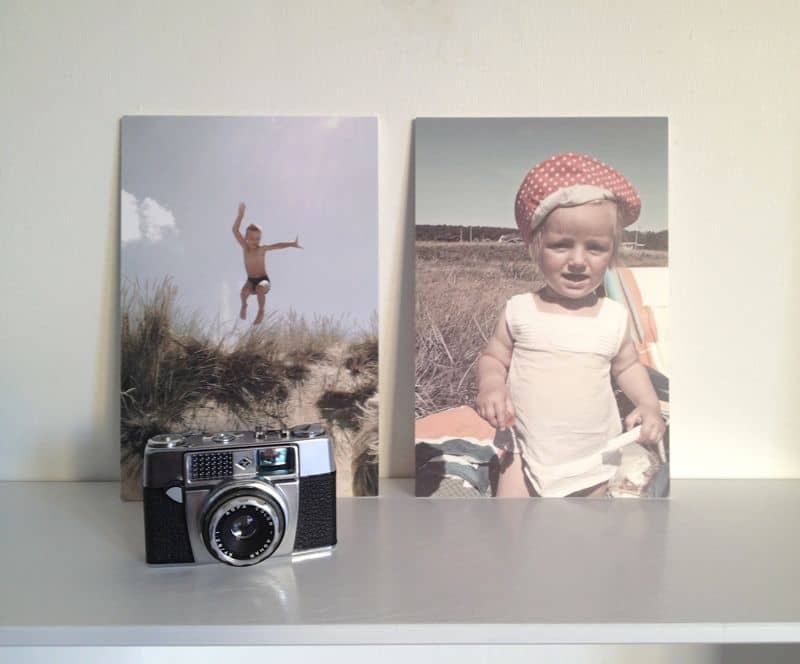 Der er flere forskellige foto og print hjemmesider der laver tryk på skumpap, feks. nemprint.dk.