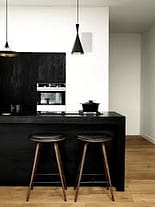 Jeg går og drømmer om et nyt køkken. Det skal være lyst, luftigt og have massere af gode opbevaringsmuligheder. Ovnen skal op i højden og overskabene skal væk. Og så skal der være en masse lækkert køkkentilbehør i fede farver som skal give rummet karakter og personlighed. Hvilket køkken drømmer du om?
Her har jeg lavet to forskellige sammensætninger af køkkener og lækkert tilbehør. Hvilken type køkken er du til? Skriv gerne kommentar.
Køkken model 1
Træ og douchede farver.


1. Køkken fra We do wood 2. Viskestykke fra Ferm living 3. Serveringsbakke fra Isak 4. Ringskär blandingsbatteri fra Ikea 5. Frisk dine køkkenskuffer på med nye greb fra Anne Black 6. Friends salt og peber sæt fra Normann Copenhagen 7. Plint brødkurv fra Ferm living 8. Timber trivet bordskånere fra Normann Copenhagen 9. Smukt rullebord i mint og træ fra Normann Copenhagen.
Køkken model 2
Sort/hvidt industri look.


1. Køkkenet er fra Vipp 2. Den gule mælkekande fra Muuto er en god kontrast til det stilrene sort/hvide 3. træbakker fra By nord bringer varme ind i rummet 4. Espressokande fra La Cafetiere 5. Krus fra Ferm livning 6. Procelænsfad fra Anne Black 7. Rist toast til alle i familien på én gang med denne hvide brødrister fra Albaline Accents 8. Vipp sæbedispencer 9. Saba forklæde fra by nord.
Mere køkken…


Lækre stemningsbilleder fra Vipp's køkken sortiment.


Skønne køkken moduler fra We do wood.