Jeg er vild med Rie Elise Larsens finurlige, forunderlige og legende univers, fyldt med farver, grafiskeformer og papirpynt til sommerens fester. De glade pastelfarver er et sikkert hit lige nu, og Rie Elise Larsen er fuld leveringsdygtig når det gælder netop det.
Den nye kollektion byder på endnu flere fint tegnede kort, massere af dekorationer og nye lækre tekstiler til køkkenet, som er et must have denne sæson.
Mine Rie Elise Larsen favoritter
Jeg er især vild med den nye fede magnetiske opbevaringtavle, som er sjov og praktisk, med sine kroge, hylder, magneter, æsker og elastikker. Tavlen kan bruges mange forskellige steder i boligen. Feks. kunne den være super fedt at have hængende i køkkenet, på hjemme kontoret, badeværelset eller i entréen.
En nyhed af den mere bløde slags, er de flotte grafiske viskestykker som fås i flere forskellige farver, og som tager sig rigtig godt ud i det moderne nordiske køkken.
Se alle mine Rie Elise Larsen favoritter her: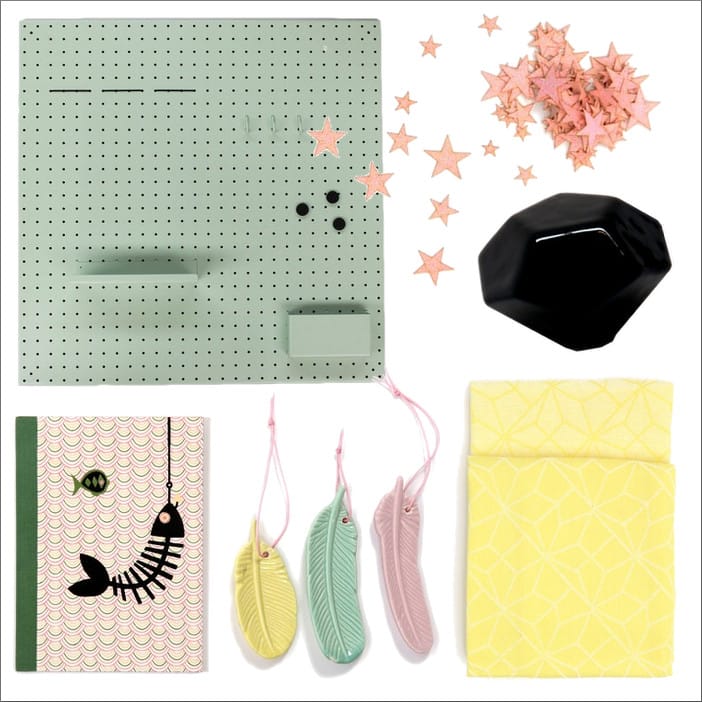 Organizer board i farven 'Neptune', 70×70 cm, 1.500 kr • Lyserøde confetti stjerner, 100 stk, 45 kr. • Diamond knob porcelæns greb, kan både anvendes som knage og greb til skuffer, fås i flere farver, fra 45 kr. stk. • Notesbog 'fish on hook' med gyldne detaljer, 50 kr. • sæt af 3 keramisk fjer i hver sin farve, 9 cm, 125 kr. • Viskestykker 'Crasy diamond' sæt af 2, fås i flere farver, 150 kr.