Plakater er et hit, også på børneværelset! Dekorer med de smukke plakater og få farve og glæde ind i værelset.
Se de skønne plakater der vil pryde et hvert børneværelse og som ungerne vil elske.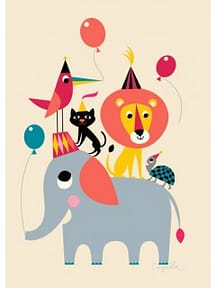 Plakat med cirkusdyr fra Mimiscirkus og stjernetegnsplakat fra plakatforretningen.dk


Fine eventyrlige tegninger, lige til at drømme sig væk i fra Mini empire. Another birdnest og Deep woods.


Søde små dyre ansigter fra Kajakaja, fås i flere udsgaver.


Disse to fine plakater med æble og pære fra Fine little day er slet ikke til at stå for.


Små huse af Tex og Jack og 'Mon amie' af Louise Kordt fra mimiscirkus.


Rumraket af Tex & Jack og 'Be nice to the world' af Ingela Arrhenius fra mimiscirkus.
Se mange flere plakater på mimiscirkus.dk